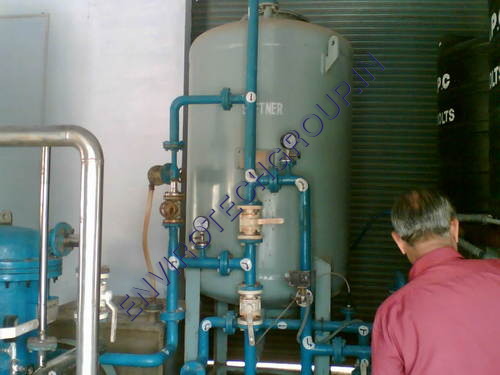 Water Softener
Product Code : EU-17
Product Description
We have been successfully operating in this industry by offering Water Softener. Our qualified professionals fabricate these plants using advanced machines and tools. These softeners are durable and corrosion resistant, as these are made using best-in-class components and materials. The softeners offered by us are able to remove all the contaminants and soluble salts from the water for drinking purposes. Before delivery, our quality controllers examine all the Water Softener to offer our clients with defect-free filtration systems.

Features:

Low maintenance
Corrosion resistant
High performance
High capacity
Other details:

For controlling raw water hardness, to make water soft and free from non-soluble salts of Calcium and Magnesium, Water softening plants are advisable. Raw water which contains carbonates of Calcium and Magnesium form hard scaling inside the boilers, heat exchangers, air-conditioning plants. The scale which is removed by chemical descaling recirculation system, though removed but affect the weakness of piping of boiler tubes and mild steel bodies. With the use of water softening system, the scaling problem either controlled completely or form a very thin soft layer which can easily be removed by high pressure washing or with a very diluted descaling solutions. The use of softener also increase the efficiency of main plant by reducing fuel or power consumptions.

The water softening plant work on Ion Exchange technology where strong acid cation exchange resin is used as softening media. This resin release sodium salts which being soluble does not affect the pipeline or vessel through as no scaling is formed due to soft water. This resin require recharging when exhausted due to absorbency of excess Ions of Calcium & Magnesium. The charging chemical used in softener is Sodium Chloride which is very cheap and easily available.

The Water Softener consist of M.S. pressure vessel provided with bed plates on to which strainers are fitted either on both side or at the bottom depending of system like up-flow or down-flow working of unit. Cation exchange resin is filled directly on strainer plate. The softener is provided with frontal pipe work and valves for various operations. Also provided with M.S. rubber lined/FRP/HDPE brine tank to store sufficient quantity of brine solution required for recharging of resin.

The softener provided with automatic injection of brine solution from brine tank to softener through C.I. Ejector or non-corrosive pump for feeding the solution.

Description

The ENVIROX Water Softener consists essentially of a steel pressure vessel. It is fitted internally with a water collecting system and a distribution system for brine and raw water. The Ion Exchange Resin is supported on a steel plate on to which are screwed strainers to prevent loss of resin and to ensure even collection of treated water.

The unit is fitted with all piping and valves up to the raw water inlet and soft water outlet.
Brine solution is to be stored in the salt saturator supplied with plant and is injected into the unit by means of the hydraulic ejector. The depth of salt solution to be injected is marked on the brine suction assembly by means of a clamp.
Available in different sizes and capacity ranges from 10 cum. to 200 cum. per hour flow rate.
For best designing of suitable size, provide complete detail as per below:
Flow rate through softener
Feed water quality
Application of treated water
Output capacity between two regenerations
Technical Specifications
Model

Diameter (mm)

H.O.S.(mm)

Thickness (mm)

Frontal

Piping (mm)

Max. Flow Rate m3/hr.

Resin Qty. in (Liters)

Resin Tank Diameter Depth (mm)

Remarks

Shell

Dish End

ENVIROX -600 SU

600

1500

5

6

50

11

400

600 x 900

MSEP

ENVIROX -600 SD

600

2000

5

6

40/50

7.5 / 11

210-350

600 x 900

MSEP

ENVIROX -600 SDB

600

2500

5

6

40 / 50

7.5 / 11

350-500

800 x 900

MSEP

ENVIROX - 800 SU

800

1500

5

6

50

20

750

800 x 900

MSEP

ENVIROX - 800 SD

800

2000

5

6

40 / 50

10 / 20

375-650

800 x 900

MSEP

ENVIROX - 800 SDB

800

2500

5

6

40 / 50

10 / 20

650-900

1000 x 900

MSEP

ENVIROX - 1000 SD

1000

2000

5

6

50 / 80

15 / 30

600-1000

1000 x 900

MSEP

ENVIROX - 1000 SDB

1000

2500

5

6

50 / 80

15 / 30

1000-1400

1200 x 900

MSEP

ENVIROX - 1200 SD

1200

2000

5

6

65 / 80

22 / 50

850-1400

1200 x 900

MSEP

ENVIROX - 1200 SDB

1200

2500

5

6

65 / 80

22 / 50

1400-2000

1400 x 900

MSEP

ENVIROX - 1400 SD

1400

2000

5

6

80 / 100

30 / 60

1150-2000

1400 x 900

MSEP

ENVIROX - 1400 SDB

1400

2500

5

6

80 / 100

30 / 60

1900-2750

1600 x 900

MSEP

ENVIROX - 1600 SD

1600

2000

6

8

80 / 100

40 / 80

1500-2500

1600 x 900

MSEP

ENVIROX - 1600 SDB

1600

2500

6

8

80 / 100

40 / 80

2500-3600

1800 x 900

MSEP

ENVIROX - 1800 SD

1800

2000

6

8

80 / 100

50 /100

1900-3200

1800 x 900

MSEP

ENVIROX - 1800 SDB

1800

2500

6

8

100 / 150

50/100

3200-4500

2200 x 900

MSEP

ENVIROX - 2000 SD

2000

2000

6

8

100 / 150

60/ 120

2400-4000

2000 x 900

MSEP

ENVIROX - 2000 SDB

2000

2500

6

8

100 / 150

60/ 120

4000-5600

2400 x 900

MSEP

ENVIROX - 2200 SD

2200

2000

8

10

100 / 150

75/150

3000-4800

2200 x 900

MSEP

ENVIROX - 2200 SDB

2200

2500

8

10

100 / 150

75 / 150

4800-6800

2600 x 900

MSEP

ENVIROX - 2400 SD

2400

2000

8

10

100 / 150

90/180

3400-5700

2400 x 900

MSEP

ENVIROX - 2400 SDB

2400

2500

8

10

100 / 150

90/180

5700-8000

2800 x 900

MSEP
Contact Us
# 32-A, Shadi Khampur, Main Patel Road, Opp. Metro Pillar No. 225, West Patel Nagar, New Delhi, Delhi, 110008, India
Phone :+917259607588